England all-rounder Chris Lewis walked to the centre of the Melbourne Cricket Ground and got ready to take his guard on the pitch.
Lewis was seen as one of a number of aces the England team had up their sleeve, a bowler who could also bat and field. Experienced batsman Allan Lamb had just been bowled by a vicious outswinger from Pakistan bowler Wasim Akram a ball earlier. Akram's county colleague Neil Fairbrother was at the other end and had warned Lamb to beware of the left armer's variations. Lewis seemed confident and prepared for another outswinger as Akram ran in to bowl. Only this time, the ball pitched outside off stump and swung in to the batsman who looked on in horror as it dislodged the bails. Legendary commentator Richie Benaud uttered his famous line "subtract Lewis from that list, Wasim Akram is on a hat-trick." That is my overriding memory of the 1992 World Cup which Pakistan won against all odds on 25 March 1992.
Cricket fever had gripped the nation during the month-long tournament jointly co-hosted by Australia and New Zealand. For the first time, World Cup matches would be played in coloured kits, using a white ball and under lights. In Pakistan, the games would start early in the morning due to the time difference and on the days Pakistan were playing it seemed many, many, many people would call in sick to work or school. Pakistan were seen as one of the favourites and were to be led for the last time by their inspirational captain Imran Khan, who had made his international debut 21 years ago and was nearing his 40th birthday.
Once the most feared fast bowler on the planet, Khan was now bowling medium-paced swing but remained Pakistan's best batsman under pressure and a mentor to the young side he had chosen to take with him. By his side was Javed Miandad, the king of Karachi and the best batsman Pakistan had ever produced. Initially left out of the squad, Miandad was rushed to Australia after the team struggled in their warm-up games. He would bring with him a desire to win at all costs and a street-smart cricket brain that was rated by many experts as one of the best in the game. The two veterans were complimented by a young and energetic squad featuring established stars in batsman Salim Malik and fast bowler Wasim Akram with a host of exciting young talents in the likes of Inzamam-ul-Haq, Aamer Sohail and Moin Khan.
Javed Miandad cuts it on his way to fifty in World Cup final/Getty Images
Pakistan began their tournament against the West Indies at the same venue, where a month later they would play the final – Melbourne. Ramiz Raja made an unbeaten century as Pakistan scored a competitive 220 runs for the loss of only 2 wickets but a Brian Lara master class, the first of many against Pakistan over his career, took the men from the Caribbean home without losing a wicket. The 1992 World Cup was the first time I followed cricket so intently and it has remained one of my foremost passions since then. The 1999 World Cup final left me heartbroken and I swore off cricket for life but it was akin to an alcoholic swearing off drinking; within weeks I was back watching and have watched nonstop ever since.
Growing up in Multan, at that time a small town and not the growing city it is today, the World Cup offered a chance to see the world from afar. I was fascinated by the commentators and their mix of accents; the South African drawl of Tony Greig, Richie Benaud's understated Aussie style and the newly emerging dulcet tones of Michael Holding. Thankfully, Ramiz Raja was playing and so I was spared the extra pain the current generation have to go through when watching Pakistan play. The city like the country itself was in the midst of cricket fever. There was no social media or cellular telephone coverage to give updates on the games. You either saw the game or hoped your friends saw it or you waited for the 9 o'clock Khabarnama to tell you what had happened. The next day's newspapers led by The News would carry the scoreboards and match analysis for those like me, who wanted to know every detail. I had a writing pad in which I rewrote all the scoreboards from the papers for no reason other than to have them in case I ever wanted to remind myself of what had happened. Today, YouTube and websites mean the current generation can check back on anything that had happened in the past at any time. My paternal grandfather was one of the main reasons that cricket was such a big part of our lives; he loved the game and had keenly followed it for decades. He would regale us with stories about not just Pakistan cricket but also the great Australian and West Indian sides of the past.
Teams pose at Sydney Harbour/Getty Images
Pakistan followed up the loss to the West Indies with a win over minnows Zimbabwe, thanks to another hundred from an opener, this time the newcomer Aamer Sohail. Next up was the game many feel helped Pakistan qualify for the final in the end. England sliced through Pakistan in Adelaide, bundling them out for a mere 74. At 24/1 England would have fancied their chances but the rain came down and saved Pakistan. Both teams got a point which in Pakistan's case proved to be a precious one in the end.
India and Pakistan squared off for the first time in World Cup history in Sydney and so began what is currently a 25 year sequence of hurt for us. Thankfully, Star Sports was then owned by someone else and we didn't have to see those factually incorrect and annoying "Mauka Mauka" ads or read Virender Sehwag's obnoxious tweets.
Miandad's unforgettable imitation of Kiran More, India v Pakistan/PA Photos
When South Africa, readmitted into the field after over 20 years and playing their first World Cup, also beat Pakistan then it seemed the team would be coming home empty-handed. The enduring image of that game is Jonty Rhodes running out Inzamam by smashing down the stumps and it remained connected to both players for the rest of their careers: Rhodes the greatest fielder of perhaps all time, and Inzi one of the worst runners between the wickets.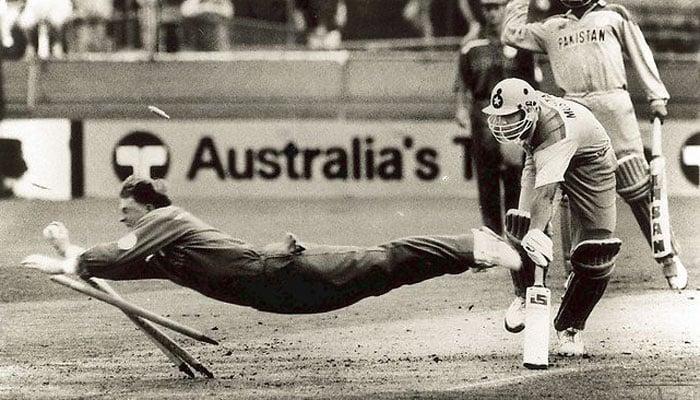 With all seemingly lost, Pakistan headed to the Australian stronghold of Perth to face the hosts and defending champions themselves in danger of missing out after a poor tournament.  Over the years Australia has mostly been a graveyard for the aspirations of Pakistani cricket but the 90s did throw up two instances of pure joy: the World Cup of '92 and the Tri Series win of '97.
Backs to the wall and with all hope seemingly lost, Pakistan then went on a run few would have believed possible just days earlier. The Aussies were beaten comfortably. Perth was again the setting as Pakistan sneaked home against Sri Lanka with Miandad calmly taking his team through to the win. Next up were co-hosts and favourites New Zealand, who had not lost a single game so far. Having been off-colour for most of the tournament and had issues with bowling wides and no balls, Wasim Akram stepped up and led Pakistan to an important win which kept their chances alive, Ramiz Raja notching up another hundred to help chase a tricky total. Now it was between Pakistan and two-time champions the West Indies, who would join the other semi finalists; a West Indies win over Australia would send the Green Shirts home. Given that the West Indians had dominated cricket for over a decade and that their recent record in Australia was exceptional, few thought an Aussie side with nothing to play for would win. But Australians are addicted to winning and duly beat their rivals, thus handing Pakistan a semi final against New Zealand in New Zealand.
The Kiwis were better prepared after last time and racked up a large total after their captain, the late great Martin Crowe, led the way with a superb knock. But fate seemed on Pakistan's side as Crowe hurt himself and was unable to field when Pakistan chased. His astute and intelligent leadership had seen New Zealand dominate on their own pitches and his presence was sorely missed. Pakistan started well but it soon fell away and when captain Khan was dismissed, it seemed the end was near. The old warrior Miandad was joined by the young Inzamam who had spent the day before the game sick with fever and had begged his captain not to be played. Imran ignored his advice and Inzamam played perhaps the innings of his life on his way to overhauling the daunting total. He was run out, what else, with the finishing line in sight but wicket-keeper Moin Khan calmly hit a few boundaries to finish the game.
Pakistan were going to Melbourne! I could scarcely believe it. And so came 25 March 1992, a day few Pakistanis old enough to remember then will forget. On a warm and sunny day in Melbourne, skipper Imran Khan strode out wearing his famous "cornered tigers" T-shirt and won the toss.
Imran Khan's T-shirt with the famous 'tiger' logo
"If the boys play like tigers then I don't mind if they win or lose," he said after deciding to bat first.
Pakistan, however, lost both openers early; unperturbed Khan promoted himself up the order and was joined by his old ally and sometime rival Miandad. The pair had played in all five World Cups held so far (Miandad would make it six in 1996) and used all their experience to repel England's attack. Critics argued they scored too slowly in their 139-run partnership but they were setting up a platform for the lower order to attack. Khan was finally caught on the boundary and Miandad, unwell with stomach issues that had dogged him throughout the tournament, fell trying to reverse sweep. Inzamam was joined by Akram, again Khan choosing to promote the all-rounder over the out-of-form Saleem Malik. The pair attacked a tiring English side and took Pakistan to a competitive total of 249. England's great all-rounder Ian Botham was also nearing the end of his illustrious career but had rolled back the years to produce a couple of vintage performances against Australia and India.
Ian Botham wipes sweat off his brow during final/Getty Images
Botham was not a fan of Pakistan and had made disparaging remarks against the country after last touring there. When he was adjudged out to a brute of a ball from Akram (Botham claims to this day he didn't hit it) he was given a send off by the feisty Aamer Sohail, who told him to send his mother-in-law to Pakistan (Botham had claimed Pakistan was the kind of place one would send their mother-in-law to as a joke against how it was not a place worth touring).
Mushtaq Ahmed, a consistent performer throughout the tournament when few thought spin would play any importance, then trapped England's best batsman Graeme Hick leg before with a superbly bowled googly. Seasoned campaigners Allan Lamb and Neil Fairbrother then came together and took England to within a 100 runs of the total with little fuss. With power hitters such as Lewis and Reeve to come, England fancied their chances and forced Imran to turn to his best bowler in the hopes of a breakthrough. Akram had struggled through the early stages of the tournament and was missing his bowling partner Waqar Younis, who had been injured before the tournament. The extra burden seemed to take its toll on the left armer and he was off colour until a newspaper interview featuring words of support from his captain before the game against Australia lifted his spirits. He took out Lamb and Lewis with spectacular deliveries and when Aqib accounted for the dangerous Fairbrother, it looked as good as over.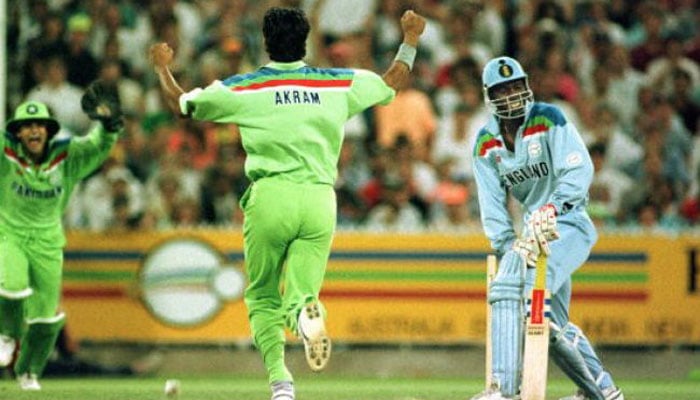 Wasim Akram celebrates after his stunning in-swinger to Chris Lewis/Getty Images
Earlier in the day, he had surprised the world and himself by taking a stunning catch inches off the ground to dismiss the England captain. In a team of poor fielders, Aqib was seen as one of the poorest but like Pakistan he stepped up when it mattered. Saleem Malik made his only worthwhile contribution of the tournament when his throw ran out England's last remaining hope in Reeve and when the captain came out to bowl the final over in his final game Pakistan looked like champions. Eager to give his side a chance, last man Illingworth tried to hit the ball to the boundary but only found the hands of Raja who took the most important catch of his life.
Imran Khan celebrates the victory wicket, 1992 final/Getty Images
As his teammates prostrated on the field to give thanks to the Almighty, Khan stood with his hands aloft to celebrate his last great miracle for Pakistan cricket.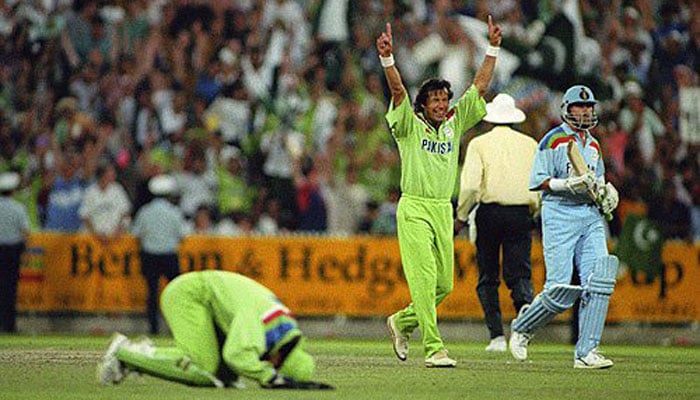 The winning moments
Around me, everyone broke into spontaneous celebration as fireworks could be heard across the sky. Even my grandmother, who was no fan of cricket or sport in general and felt we wasted too much of our time playing it, celebrated with gusto. To her, the only reason Pakistan had won was because a Multani like Inzamam was in the side and because it was the holy month of Ramazan. The celebrations went on into the night and the next day the only people who went to school had no life or no TVs.
The ultimate glory
Cricket had long been an important part of Pakistan's collective psyche, but it is fair to say that after that day it began its dominance over other sports it enjoys till today. 25 years later, it is perhaps the one factor that unites Pakistanis in a way nothing else does. I was lucky enough to have witnessed that day. 25 years on, memories of that World Cup remain as precious as ever.
Level 11





---

Posts

: 1428

---



____________________
Level 31





---

Posts

: 34511

---



____________________
Level 28





---

Posts

: 27189

---



---
Permissions in this forum:
You
cannot
reply to topics in this forum